We celebrated a birthday this weekend and have another one coming up next weekend. I thought I would whip up some fun party banners for the festivities. Any chance to play with fabric, right?
These are super easy to make. Just grab a package of medium ric rac for each banner.
Pick out some fun, colorful fabrics. I chose fabrics with simple geometric patterns (I love geometric patterns!) so each triangle was generally focused on one color, but you could mix and match it any way you want. Choose fabrics to match your party theme!
As for cutting out each triangle... I drew up a simple template, used my handy hera marker to mark the fabric, and then used pinking shears to cut them out. Another option is to use a pinking rotary blade on your rotary cutter.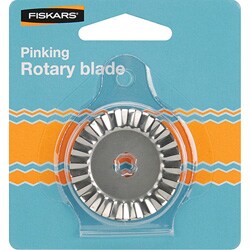 The triangles can be any size you like, but for these I made them 5" across the top and 7" tall. Draw a 5" by 7" rectangle. Find the center of the bottom of the rectangle and draw a line from each corner to the center. Now you have your template. Cut out the template, mark your fabric and cut out 13 triangles for each banner.
Time to Assemble!!
Once you have all your triangles cut out, lay them out in the order in which you want them on your banner.
Mine look random, but I played with the order before I settled on the final look.
Stack them up in order and get ready to start sewing. I sewed looking at the back side of the banner to ensure that each piece is stitched on correctly.
Start 6" from the end of the ric rac, place the first triangle face down in place and sew it on. Skip an inch and then add the next triangle. Continue to the end. There should be 7 extra inches at the end. Trim to 6".
Details Summary (for one banner):
Materials: One package of medium ric rac, 13 fabric triangles
Numbers:
Ric Rac length = 90"
Banner length = 89"
5" for each triangle x 13 triangles = 65"
1" between each triangle = 12"