This Sunday my family and I had a blast at Round Top, TX. Round Top is a little town halfway between Houston and Austin with a population of around 100 people (the sign states 90 to be exact). The scenery is beautiful and you will find yourself surrounded by large, old live oak trees, old homesteads, very quiet country, and endless cow pastures.
Every April and October there is a massive
antique show
that is not only in Round Top, but also extends to the neighboring small towns: Warrenton, Carmine and Shelby.
This year marks the 45th year for Round Top.
They are now guessing that there are 35 separate shows with an estimated 2500 vendors set up in the pastures, spread out up and down the main highway. A few venues charge to enter, but for most places there is no charge to shop (these are the places we go).
These shows last a little over two weeks, but the main weekend is next weekend. We try to avoid that weekend because the traffic can get crazy especially if you arrive in the middle of the afternoon.
The temperature was very nice in the low 70's and it was a windy day with 20 mph winds (as you can tell by the flags in the picture above). A cool front had just come through.
You can find pretty much anything you are looking for... antique and new furniture, handmade items for home and yard, linens, old quilts, a wide variety of crafts, antique clothing, old stain glass windows... I could go on and on and on (and yes, lots of junk too).
I love looking at all the old items that ladies used to use and carry. Beautiful lace gloves (for hands that are so much smaller than mine), dainty beaded purses, lovely little suitcases, lace table clothes and handkerchiefs... the list goes on and on.
All of these things remind me of my great grandmother. I was very close to her and she passed away when I was 12. I remember when I would spend time with her, I would always play with her costume jewelry, dress gloves and beaded purses that she made. Every time I see items like these, I think of her and miss her.
I fell in love with this booth. I love these colors of soft and bright aquas, shades of pink and soft white together. I will have to make a note to use these colors in a future quilt.
I am crazy about roses, china, porcelain and crystal. You can see why I loved this booth so much. If it was in my price range, I would have definitely purchased the pitcher and wash basin... so gorgeous!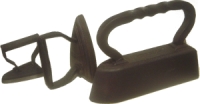 I thought these old ironing boards were interesting and there was another booth that had many old irons ranging from the old heavy cast iron ones and the iron stands to hold them to the early electric ones. She had the early electric curling irons for ladies hair and she even had little mini irons (heavy cast iron) that were for ironing lace. Everything she had was in really good condition.
I am sorry I didn't get pictures of her booth. I was so fascinated with her stuff that I forgot to take pictures. She had a large number of the old telephones that would hang on the wall with one button to ring for the operator.
She explained to me how everyone would share a party line that would consist of 4 homes and each home would have a different ring. She also told me that every time another home picked up the phone to join the conversation or snoop the signal would get weaker. Things sure have changed from those phones to the fancy cell phones of today.
This is one of the booths that we frequently visit. She has beautiful bedding and table linens that are monogramed with one initial. The first picture in this post is also from this booth. All of the bundles on the table are lavender pillows that smell amazing. My mother has given two of them to me for my birthday and Christmas in previous years. And if my grandmother is reading this, she will recognize some of the Christmas gifts she has received throughout the years.
I had to throw this picture in with the large quilt in the back.
We look forward to going to Round Top every year in both the Spring and Fall. It is usually when the weather is first changing for the new season so it is always so pleasant to spend the day outside in the country.
We usually have lunch at the Southern Flyer Diner at the Brenham Airport. They are known for their great food and their poodle girls. I love this place! The juke box is in great condition so we get to listen to 50's music while we dine. I always feel like I have stepped back in time when I eat there.
(pictures from the Airport website)
There is no sign for the restaurant, just head to the airport and you will find it.
(pictures from the Airport website)
The restaurant is right by the runway so it is not uncommon for airplanes and jets to pull right up to the restaurant. The kids love it.
(pictures from the Airport website)
I am glad I got to share my trip with you. We look forward to doing this twice a year and it is always so much fun.