This little mug rug bundle is for an Etsy custom order. The order was for four mug rugs and after a little brainstorming we came up with two using the Of a Feather fabric from the Tsuru collection along with a few others thrown in...
and the second two with the adorable fabrics from the Walk in the Woods collection.
I played around with the quilting designs and I am really happy with the results.
If you are interested in making some mug rugs for yourself and would prefer a pattern to guide your way, you can find a listing for my mug rug pattern here: Bundle of Mug Rugs.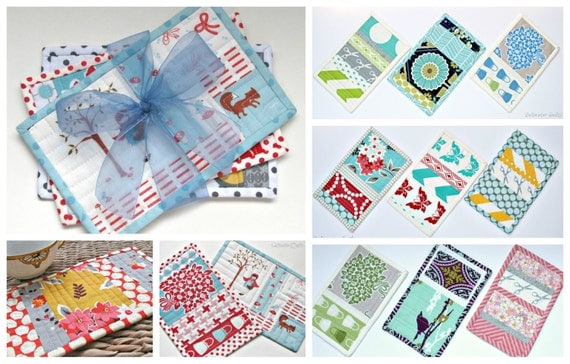 If you are interested in previous posts regarding the mug rugs pictured in the pattern above... just search for "mug rug" in the small search bar on the left side under my picture and profile.
This guy (Artemis) was hanging out with me while I was taking pictures. He is really bird watching out the window. He is very talkative and often moody. Once I took a couple pictures of him he chirped at me and then gave me this look that said, "your annoying me" and then he turned his back on me. When I say chirped, I mean chirped. He has a strange way of talking when he is annoyed, especially when he is in trouble. I had to share this because he always looks so sweet and innocent in his pictures, but usually is irritated with me for taking his picture. Funny cat.
I will be back soon with an update on my tablerunner. Stay tuned....